3rd Annual General Meeting 2076
October 19, 2019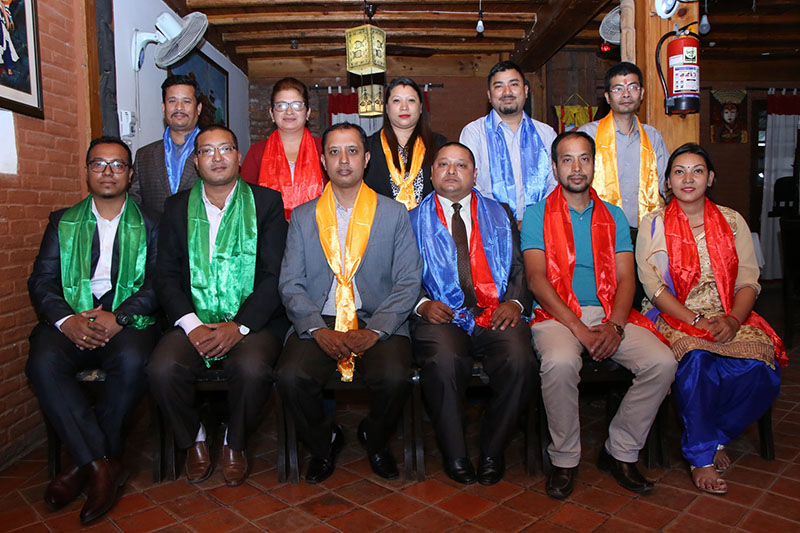 Bajracharya Club's 3 rd AGM of FY 2075/2076 (११३८/११३९ ने.सं.) was held at Dwarika Chhen (World Heritage Hotel) Pyafal, Kathmandu on 2076/6/2 BS (Oct 19, 2019 AD/ने.सं. कौलागा षष्ठी, ११३९). It was inaugurated by Chief Guest Mr. Pabitra Bajracharya which was followed by Nepali National Anthem. Welcome speech was given by Club's Vice President Mr. Sarju Bajracharya which was followed by Speech for Activities of Club During Fiscal Year 2075/2076 and Speech for Club's Account Audit Report by Club's Joint Treasurer Ms. Shristi Bajracharya.
New executive committee of Fiscal Year 2076/2077 and 2077/2078 was established with 11 Executive Members as stated by Bylaw's of Bajracharya Club.
President: Mr. Jyoti Bajracharya
Vice President: Mr. Sarju Bajracharya
General Secretary: Mr. Srijan Bajracharya
Secretary: Mr. Minesh Bajracharya
Treasurer: Gyan Ratna Bajracharya
Joint Treasurer: Ms. Anju Bajracharya
Members:
Mr. Monish Mananda Bajracharya
Mr. Sajan Lal Bajracharya
Ms. Karisma Bajracharya
Ms. Renuka Bajracharya
Mr. Albert Bajracharya
Speech from our Ex. Founder President Mr. Shailendra Man Bajracharya, Immediate and Immediate Past President Sujan Bajracharya were given. Beside this speeches from Our Chief Guest Mr. Pabitra Bajracharya, Guest Mr. Yagya Man Pati Bajracharya (Chairman Dharmodaya Shabha) Guest Mr. Biju Bajracharya (Lion's Club) and Ms. Dibya Laxmi Bajracharya (Nepal's 1st Soil Scientist from Agriculture Department, Nepal). Chief Guest and other guest were honored during the event.
The program was formally following the speech by Jyoti Bajracharya and ended by serving Typical Newari Samaybazi.